Vallejo & Fairfield Cosmetic Dentistry Services
Teeth Whitening

Whitening procedures have effectively restored the smile of people with stained, dull, or discolored teeth.
The darker tissue of your teeth, the dentin, can become exposed as the outer layer of enamel is worn away by the effects of aging or things like caffeine and tobacco.
Food particles are naturally attracted to a tooth's enamel by a certain protein. Products like coffee and tea, berries and soy sauce are notorious for staining teeth. Over time, teeth actually become more absorbent and vulnerable to staining from food and other substances.
One type of stain—caused by traumatic injuries, medications and fluorosis—actually begins inside the tooth; brushing and flossing don't help. Another type of stain—one that can be more easily attacked by brushing, flossing and rinsing—is caused by external factors such as foods.
More and more people today are choosing tooth-whitening procedures to reverse the effects of aging and abuse from food and tobacco stains.
Some commercially available "whitening toothpastes" can be somewhat effective at removing stains and making teeth a few shades brighter. However, many of these products have abrasive substances that can actually wear away your tooth's enamel.
Whitening agents actually change the color of your teeth, but only are effective on certain types of stains. For example, bleaching agents have a difficult time removing brownish or grayish stains. These products also are not as effective on pitted or badly discolored teeth, or on restorations such as crowns, bridges, bonding and tooth-colored fillings (porcelain veneers or dental bonding may be more appropriate in this case).
Professional whitening performed by our office is considered to be the most effective and safest method; done properly, tooth whitening can last as long as five years. Over-the-counter whitening systems are somewhat effective as long as they are monitored and directions followed closely.
Smile Makeover
Tired of masking your smile because you don't like the way your teeth look? A smile makeover can be a big boost to your confidence and self-esteem. With a total smile makeover, chipped teeth, cracked teeth, gapped teeth, crooked teeth, stained teeth and gapped teeth can be completely transformed into the smile of your dreams. This is done through a combination of restorative and cosmetic dental treatments, including white fillings, cosmetic dental bonding, porcelain veneers, cosmetic dental crowns, dental braces, dental bridges and dental implants.
Single Tooth Implants
If you're missing a tooth and want the very best dentistry has to offer, you could be the perfect candidate for single-tooth implants. Single-tooth implants act as tooth roots for replacement teeth. They are securely anchored into the jaw and topped with a dental crown for the very best in look, feel and function. Single-tooth implants offer several advantages over other tooth replacement options, such as dental bridges and partial dentures. Surrounding teeth and the jawbone are better preserved. Single-tooth implants are also easier to clean. And they can also outlast bridges and dentures by about 10 years!
Porcelain Veneers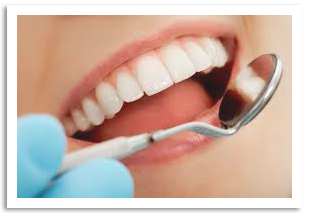 In just two or three dental visits, a veneer can reverse years of stains caused by foods, caffeine and tobacco use.
Special thin laminates, called veneers, can often be used to correct discolored, worn down, cracked and chipped teeth. Veneers can also be used to close unsightly gaps between teeth. Stronger types of veneers made of porcelain, also called composite veneers, typically last longer because they are bonded to the tooth.
An impression of the tooth must be made and a veneer molded by a lab technician. Because veneers require a small amount of enamel to be removed, they are permanent and non-reversible.
The process involves buffing the tooth, removing an extremely thin layer of the tooth to allow for the thickness of the veneer, an impression of the tooth, and final bonding of the veneer to the tooth with special cement. A special light is used to complete the process.
Cosmetic Dental Bonding
An alternative to veneers is a process called bonding, in which a tooth-colored material that looks like the enamel of your teeth is molded and shaped, and then hardened and polished. Bonding can be used to improve the color and shape of a tooth, or close unsightly gaps 
Bonding is generally not as permanent a process as veneers, and can be vulnerable to the same kind of staining your natural teeth are prone to. Bonding can also be more prone to chips and cracks than veneers. It typically only entails one office visit, and the results last for several years.
Crowns, also known as caps, are used in cases where other procedures will not be effective. Crowns have the longest life expectancy of all cosmetic restorations, but are the most time consuming.
Invisalign
Invisalign's® invisible, removable, and comfortable aligners will give you the beautiful straight teeth you've always wanted. And best of all, no one can tell you're wearing them. Invisalign® is great for adults and teenagers. Read more!